Getting To Know Sedona Tour $260 (1 to 4 Persons)
Please note: This tour must be booked directly with your Guide/Driver, Tom Shoemaker, at 928-203-6179

Sit back and relax while taking in the Beautiful Sights and let me be your driver and guide.
Learn the history of Sedona and the surrounding area.
Visit all 3 areas of Sedona and as well as several lesser know gems.
By the end of this tour you will know your way around Sedona from a long time local.
Understand what a Vortex is, where they are located and why UFO's are common in the area.
Get hiking and trail tips from someone who has hiked over 8k miles in the Red Rocks of Sedona.
Let me share Sedona with you in this fun laid back way.

 

This private guided tour is just for your party of up to 4 passengers.

 

Local pick up and drop-off included.

 

Tour last between 2-3 hrs depending on photo stops and traffic.

Full day and custom tours also available
About Your Guide/Driver Tom Shoemaker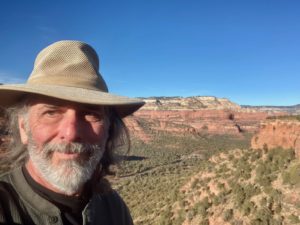 My first visit to Sedona was in the early 1970's. It was a much smaller town then. I fell in love with the Red Rocks and came back several times over the years to hike and enjoy. Originally from Cincinnati Ohio, I decide 15 years ago, why not live full time in Sedona. Since that time I have hiked up and down and all around. Hiking somewhere between 8 to 10 thousand miles in the surrounding areas. Loving to discover hidden treasures like the rock art and ruins. Lots and lots of photos on my FB page. For most of the time out here I have been some type of tour guide as I love sharing what I have learned and experience with others. I look forward of sharing my back yard with you soon. 
Please note: This tour must be booked directly with your Guide/Driver, Tom Shoemaker, at 928-203-6179